How ChatNow used for Marketing?
ChatNow Set up Example:
Company name: 360 Marketing
ChatNow link: 360.chatnow.my
Pre-set mobile number: 6013 313 6060 (Sales hotline)
Pre-filled message: Hi 360 Marketing, I am interested in your services and would like to know more.
ChatNow can be widely used for your marketing campaigns, For example:
You can insert the ChatNow link (360.marketing.my) at your facebook advertisement, WhatsApp marketing or add the QR code on your flyers, newspaper advertisement and etc.
When your target audience saw your advertisement and click the link (or scan the QR code), WhatsaApp will automatically open a chat room with your pre-set mobile number (6013 313 6060) and the pre-filled message will automatically appear in the text field of the chat.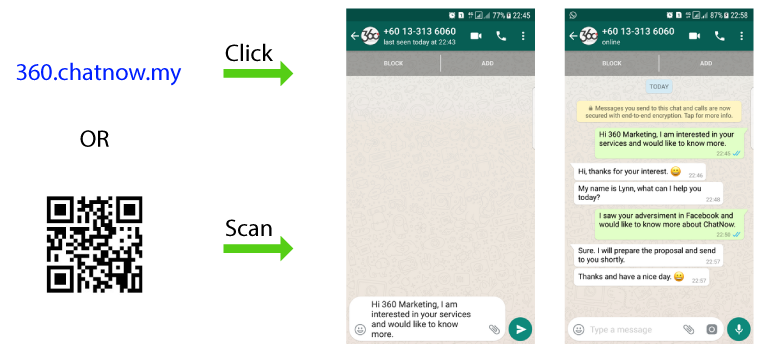 They simply click the sent button then can start chatting with your sales representative without having your phone number saved in their phone.
With ChatNow, communicate with your customers has never been so easy! You can talk to your customer in real time, increase the chances of high value engagement and more sales.